Polyurethane Accu Casts: the cost-effective way to simulate injection molded parts.
When you need only a few plastic parts or a limited production run, 3D-CAM's RTV rubber tooling is a great solution.
Using SLA or SLS as a master pattern, we make rubber molds that are used to cast polyurethane duplicates.
RTV rubber tooling is an inexpensive way to create highly precise parts perfect for prototypes or small production runs. With a robust variety of polyurethane materials available, we can create parts of hardnesses ranging from soft to rigid, and build in varying levels of heat and impact resistance.
Offered in a wide range of colors, your polyurethane duplicates can be painted and textured to simulate injection-molded parts for marketing samples, presentations, or Trade Shows.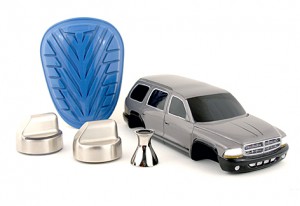 SLA Master Patterns
An SLA part is the most common master pattern for making RTV tooling. The shrink-compensated SLA part is finished to a 3A level with a coat of primer. The pattern is then measured, verified, and checked for quality before use in making the RTV tooling.
Metal Master Patterns
For accurate, highly detailed polyurethane castings, we generally use a metal master pattern for the fabrication of the RTV tooling. Aluminum is the best choice for making a machined master pattern. RTV rubber tooling and AccuCast parts are the ideal choice for:
High quality prototypes
Short runs of 25 to 50 units
Prototypes that require plasticity, high temperature, high strength and/or good flexibility
Dimensional tolerances:
+/- 0.005" or better for the first 5 Inches, +/-.02" for each additional Inch.