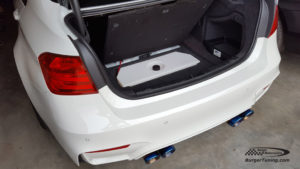 Burger Tuning of Simi Valley, CA manufactures high performance racing kits for the automotive after-market. Their WMI (water/meth/alcohol) injection kits boost engine performance up to 100 more horsepower using regular pump gas for BMWs, Mercedes Benz, and other makes of high end production cars. And recently, Burger turned to 3d-cam for CAD design, 3D printing, and prototyping for a performance kit for the $70,000 BMW M3.
3d-cam's fast turnaround, 3D Printing, CAD design, and prototyping in-house capacity puts Burger Tuning at the head of the field
"Our customers are real performance-minded individuals, and their feedback was very specific: The tank needed to be small, strong, and fit seamlessly and invisibly into the trunk. Plus it needed to be easy to fill," says Jason D'Ambrossi, VP Design at Burger.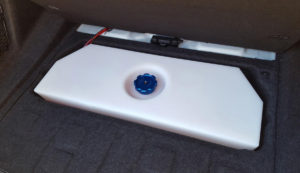 "This was a pretty tall order because there's almost no extra space in the M3's trunk. And if that wasn't enough, the design also needed to accommodate a built-in pump."
"But 3d-cam was up to the task. We came up with the rough initial design for a stealth fuel tank with a 3 gallon capacity," D'Ambrossi continued, "I gave 3d-cam a brief written description and a rough sketch. And they pretty much did the rest."
"3d-cam immediately got where we were coming from. The owner, Gary Vassighi is so professional, and he has a crack team of in-house experts from CAD designers to solid modeling specialists, all under one roof. From our drawing, they created accurate 3D CAD files, and worked closely with us throughout the whole job to find ingenious ways to improve our design. For instance, they suggested an important tweak to the fluid runoff angle that optimized the flow of the methanol into the pick up."
"We got quotes from other 3D printing companies, but only 3d-cam gave me the confidence that they could really handle the job."
"Burger and 3d-cam was a good match," says D'Ambrozzi, "They were there to guide us through every phase of the design and building of the tank. The whole process from rough drawing to finished prototype took less than 2 months. In fact, I'm trying to think up something new for them to work on right now."